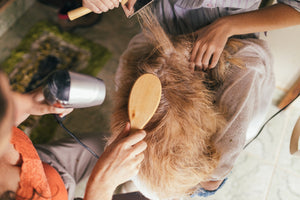 Introducing puppies to Grooming
We recommend starting at 12-weeks of age. The very first grooming appointment is an introduction to the puppy and the owner to the world of grooming. The puppy with be introduced to a bath, blow drying, nail clipping, and slight trimming. We do not recommend having a puppy be given a full hair cut the first time being groomed. The reason behind this is you are forcing the puppy to stand still and be handled for 2 hours. This is a lot to ask of a puppy. It would be like asking a one-year old child to sit without moving, going to the bathroom, or play with any toys for 45 minutes. That is why we only do the basics for puppies first groom. We bathe them, slowly dry them, trim the nails, trim the fur from around their eyes, pads, and around the sanitary area. This is about all they can handle. The puppy will be introduced to having scissors around the face, having to hold still while the pads on their feet are trimmed. Depending on how the puppy reacts to the first grooming we may recommend doing this type of trimming at least 3 times before giving a full haircut.

At home grooming is also extremely essential to having a puppy become used to grooming, and to enjoy their experience at the groomers.