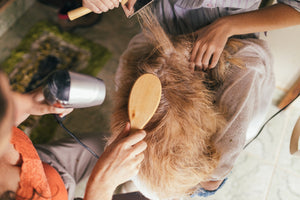 Cute Paws Dog Grooming Salon
Grooming Procedures and Policies.
Grooming Procedures
Upon arrival
All dogs must be on a leash or in a carrier when bringing them into the salon. Even if your dog listens well off leash the parking lot can be busy at times and we don't want to see any accidents happen. Also there may be another dog inside when you enter and even tho your dog may love everybody, the dog inside might not.
Pee and poop business
Please make sure your dog has done his or her business before coming in. we also ask that you keep your male dogs from peeing on the walls inside the salon. Too often pets poop right after arriving and our staff needs to stop what they are doing to clean and sanitize the affected area.

Owner staying
Pet owners are not allowed to be in the grooming or bathing area. Pets who see their parents while being groomed can become to exited and could cause injury to themselves or the groomer, therefore we prefer to not have owners wait inside or to show up before a scheduled pick up time.
Grooming time 
We like to ask AT LEAST 2 1/2 HR for bath only and 3 to 5 hrs for most dogs getting haircuts and possibly  more time for very large dogs or pets in bad shape. We make every effort to give you an estimated time for grooming but unforeseen things can disrupt that  timing and we will try to give you as much notice as possible to any changes in grooming time. We want to make grooming as enjoyable as possible for your pet. We will specially not rush a nervous or elderly dog through grooming, most of the time they need a break between different grooming process. But at the same time, we don't want to keep a pet here longer if they are stressed, or barking and cause the other dog's stress.
Appointments
Making and appointment reserves that space for your pet, but when someone cancels last minute or does not show, we not only loose money from that pet but also from the pet we could have put in that spot. Everyone can run into a problem sometimes, us included, but just as your time is important, so is ours, and when we work on such a tight schedule, we need to make the most of our time.  Changing appointments must be made over the phone we do not cancel appointments via text or social media.
Each appointment requires $15 dollars deposit that will go towards your service.
cancellations 
We ask at least 24 Hrs notice for an appointment cancellation or change. 
If you don't notify us 24hrs before Deposit will not be refunded and you will required a deposit for further appointments.
If you are late more than 15 minutes we cannot take you, you will need to reschedule and deposit will not be refunded.