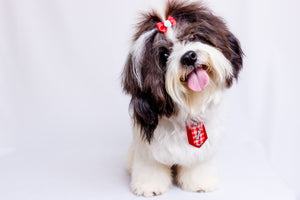 Welcome To Cute Paws Salon
Cute Paws was stablished in 2010, we are a small family business with over 15 years of experience.
My name is Kirenia I have been grooming dogs since I was 18 years old, i use to work at a pet shop while I was studying vet assistant and after graduating and worked at a clinic for 1 week I realized that grooming dogs was for me.
That's when all started and decide to study to be a Pet stylist.
I worked from place to place and after a while with the help of my parents I open my own Bussiness.
Here at my salon we treat each pet like our own and we love to have a solid relationship with everyone.
Me and my sister Keira work as a team,
While she assist me with senior dogs and puppies I do the full cuts, sanitary clipping and nails, she is also my bather and handles our social media.
After cov 19 and having my 2nd baby I created a online booking with a deposit hold  which allows me and her to have more free time.
I found this really convenient since we run a small Bussiness, we are available to ask any questions tru text or by phone.
My shop is really small and I'm only 1 groomer so we have a limited dogs we can take per day, this is why is very important to book ahead with time specially for the holidays.
We love taking Pictures so we like to be very active on social media, we post our pictures the same day and time your furry baby is being groomed.
We love and care for all animals so we like to take our time while grooming, getting to know your pup and being very gentle so she\he can have a positive experience while staying with us, that's our number 1 priority because we are not just a business we like to treat everyone as family.
We keep our facility very clean, we have a policy that no pets with ticks allowed. If you think your pet is infested please mention this before your reservation is made.  Every year or so we like to change and improve our shop with new styles  and new decorations.